Testimonials
Current customer feedback from December, 2015: 
This mug is so cute! It's a wonderful size and weight and will make a great gift!
Thank you so much for doing this custom order and getting them rushed to us in time for our Holiday Party! They are exactly as described and look great.
Sheena is AWESOME. I contacted her about a rush order and not only was she helpful, but she was professional as well. I received my package early and was incredibly happy with the end result. I will definitely return as a customer in the future and I recommend her to all my friends. Thanks Sheena!!! I appreciate it so much!!
Current customer feedback from November, 2015: 
Loved my glasses and so did bridesmaids. Colors were perfect and glass was perfect size
These glasses made a great gift for my parents and in-laws. Beautiful work and shipped faster than I expected!
I ordered this casserole dish for a gift and was delighted when I received it. It looked great! After showing it to my mother and sister they have requested one so I now have two ordered for Christmas gifts. What a clever idea and everyone that takes something to potluck needs to own these casserole dishes!!! Super idea with the etching!!!
Current customer feedback from October, 2015: 
My wine glasses turned out amazing! I am so excited to give them to my bridesmaids! Thank you so much!
Perfect. Amazing. Can't wait to use them at my wedding Saturday!!! She did all of my wedding party & even ours.. She's a fast, hard-working, all around sweetheart and I couldn't be anymore thankful!!! I will defiantly be ordering from her soon!!! Xoxo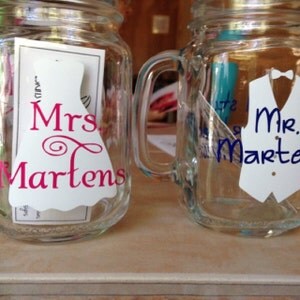 I ordered beer glasses for the groomsmen and wine glasses for the bridesmaids and they are beautiful!!! The wine glasses even came with snowflakes on them for my December wedding! 
I wish there was an option for 10 stars !!  They are perfect ! I ordered my groomsman beer mugs, my Bridemaids mason jars and the kids plastic tumblers !! She did a wonderful detailed job and shipped right on time !
The growlers looked great and the guys loved them. They came in on time and the seller was very pleasant to work with, they answered all my questions promptly.
Current customer feedback from September, 2015: 
The personalized champagne glasses I ordered for my bridal party were amazing! All the girls absolutely loved them! Sheena was a pleasure to work with and was very accommodating when I needed two of them redone- the light grey was too similar to white so I asked for those in the darker grey and it was no problem. Would definitely use this shop again and would highly recommend!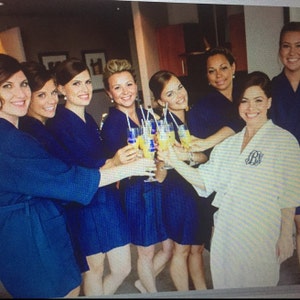 These shot glasses were one of the highlights of my bachelorette party! They're so cute, great quality, and all of the girls loved them!
Waterfall designs is wonderful! Great customer service and awesome products!!! My kids love their new tumblers!!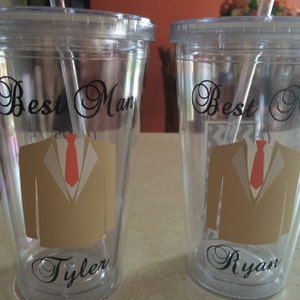 These shirts are exactly what I wanted!! They are perfect for me and my girls on my special day :) thank you so much for getting them to me on time!!!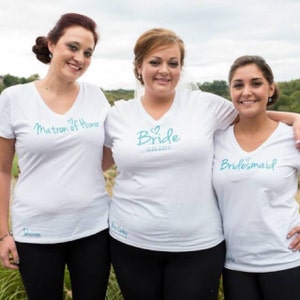 My tanks were absolutely perfect and everyone loved them! Sheena was a pleasure to work with. Quick shipping, fast response, beautiful product!! Highly recommended.
Current customer feedback from August, 2015: 
Seller was in constant contact with me about my purchase, very responsive and polite, and I had my item in plenty of time when I needed it. Love my custom apron, a great bridal shower gift!
Absolutely gorgeousssss!!! With the help of Sheena, I was able to customize the perfect champagne glasses, each of which will be a gift for the bridal party and our Mothers. The colors are bright and beautiful, and the shell designs are a wonderful personal touch since we are marrying at the beach! I can't wait to show these glasses off and present them to our Mother's and each of my bridesmaids and groomsmen! Thank you so much :)
I ordered 8 wine glasses to be made for my bridesmaids. I needed the glasses to be a rush order because I was having a "will you be my bridesmaid" brunch. I am so glad I ordered from WaterfallDesigns, she was so accommodating and helpful. The glasses came earlier than I expected and were adorable! All of my bridesmaids loved their glasses!!
Exactly what we were looking for. They are beautiful.!! Great customer service and very helpful to get exactly what you want.
Current customer feedback from July, 2015: 
These were perfect! I'm so excited to give the custom glasses to my bridesmaids. The seller was also super awesome to work with and contacted me right away to clarify something instead of just doing what she wanted. She was great. Overall an awesome product and seller. I would recommend her to anyone!
This was such a great buy!! The glasses came quickly... And they were so beautiful! I am absolutely going to buy from this shop again and would highly encourage you to as well! You wont be sorry!!
I absolutely love the wine glasses I ordered. The quality is amazing and the glasses are beautiful.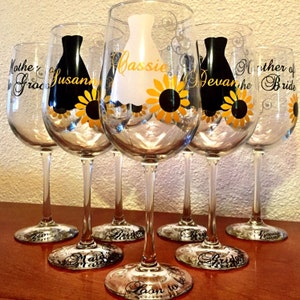 They arrived well enough on time. I am also grateful for Waterfall Design to work with me on what I was asking for and they did a great job the groom and I will be very happy toasting with them on our wedding day.
These glasses arrived and they are ADORABLE. The variety of fonts/colors/options makes them so personalized. They will be an awesome gift for my bridesmaids in two weeks! Thank you!
I love them! They arrived in perfect condition, they had been packed very very carefully with lots of padding. The etching is perfect and the font looks great. They seem like really high quality glass too. I can't wait to have them on our table at our wedding!
Current customer feedback from June, 2015: 
Just got these in the mail today and they are AMAZING! I know my fiance ' s groomsmen are going to love them! They are so high quality and very heavy duty. And i like that they are dishwasher safe. Also, they shipped faster than they thought ??
Ordered these beer mugs for all of our groomsmen and they were awesome! Perfect for a bunch of beer-drinking partiers! They clutched them all night at our wedding, and made a great keepsake and gift!
Everything turned out perfect! The glasses were packaged really well and I got everything within a few weeks. Thank you so much! Will definitely recommend.
These wine glasses turned out fantastic! The glasses themselves are much larger and higher quality than I expected for the price. Great service and fast shipping!
Seriously these are amazing! My fiancé asked me to order them for the groomsmen and they look so much better in person than we could have imagined! Thank you so much! The guys will love them!
Current customer feedback from May, 2015:  
I love these glasses! They are perfect and were wrapped so carefully for shipping. All the customizations were exact and the finished product exceeded my expectations! 

And they were shipped so carefully wrapped!!
Sheena did an incredible job in executing my Bridesmaids and Bride Wedding Flute Glasses!! I am so happy with the color and quality and know all my Bridesmaids will enjoy using these for years to come!! Thank you!!
It came out perfect! Great seller! Great communication! Great product, just as pictured! Would definitely buy again! Sizing is normal tshirt sizes not too large or too small
Arrived in great packaging and look perfect! Colors are exactly what I wanted and the detail work is adorable. Nice, sturdy wine glasses, too! Overall, a very happy customer!
Absolutely amazing work! I was so happy to receive them and be even more amazed when I opened the box. They matched my wedding colors and they turned out perfect!!
Current customer feedback from April, 2015: 
What is there not to like. Sheena was there from START TO FINISH......I was on a major wedding deadline and she ensured my glasses would be delivered in time and even with the date quoted....I received my items FOUR DAYS AHEAD of time.....beautiful glasses....I'm sure I'm bridesmaids will love em. Thank you Sheena!!!!
These are just beautiful! I was hoping to get something nice and cute for my bridesmaids for my wedding, and I wanted to try these out. When getting them in the mail, I wasn't sure how they were going to look, but I was not disappointed! Easy to read, beautifully decorated and a very descently sized glass. I am completely happy with my purchase, I am so happy that I included one for myself!
I bought these as gifts for my mother and my husband's mother and gave it to them at the rehearsal dinner. They both loved them! They came out perfectly. I'm pretty sure they use them daily:).
This was the most perfect gift for my wedding! My bridal party absolutely loved the wine glasses... Every item was specifically how i ordered it and was proofed by the team.. Doubled checked to make sure it was what I wanted! My flower girls and groomsmen thought it was right on target! My bridemaids said they were truly beautiful. I did a combo of dresses and polka dots and I would highly recommend to a cute bride who wants that special touch of a token for their party! Bravo!
Current customer feedback from March, 2015:  
I LOVE THESE TANKS!!! I had a white one made for me and a black one made for my MOH/sister. They are perfect for wear the day after my wedding. Fabulous work, great quality. Five stars for this seller.
These are GORGEOUS! They turned out exactly like the pictures- high quality wine glasses, beautiful script, and colors were perfect! I would definitely recommend to anyone needing bridesmaid gifts!
Received my tumblers very quick! I am giving them as gifts for my bridesmaids. I love them! They matched the colors I asked for and everything was centered and spelled right. The cups are very nice quality and packed very well for shipping. I cannot wait to give these to my girls in April! Thank you!
I ordered the wine and pilsner glasses for our entire wedding party. The quality and weight of the glasses are really nice. The end product was exactly what I was hoping for. Can't wait to toast my new husband and family and friends with these beautiful glasses!!
Current customer feedback from February, 2015: 
I have made it a kind of tradition, using this shop, that every time a friend of mine gets engaged, they get a Future Mrs. Wine glass. One is getting a mason jar because she doesn't drink wine, but I messaged them about that and got a very quick response of yes of course we can do that!! Everything Sheena makes is perfect! Have never had a problem. And every wine glass has made it to it's destination in one piece and I have sent them to Chicago, a couple to Alabama, Texas, and South Carolina. :) will continue to use them in the future!
I'm in love with my glasses for my bridesmaids!! They were my perfect color, with all the correct decorations, names, and spellings! I can't stop looking at them! I highly recommend these! I can't wait to use them the day of my wedding.
Words will never explain how much I love these glasses! So beautiful, and so personable! I ordered these for my bridesmaids to give the day of my engagement party, ended up accidentally dropping one, rush ordered one that night and Waterfall Designs shipped it the Next day! Got the glass one day later. Perfect timing. I couldn't thank Waterfall Designs enough for the beautiful glass, and for getting my extra glass out so quickly! I absolutely plan to order from Waterfall Designs again next time I order. THANK YOU SO MUCH!!! I HIGHLY recommend this shop to everyone!!! You will NOT regret it! If you're looking for beautiful work, and want to deal with considerate, appreciative, friendly, and personable people, look no further from Waterfall 

designs!
These turned out so cute! I wish I would have ordered one for myself. I was super impressed with the packaging that the cups came in! I'm excited for my bridesmaids to get them.
I can't wait to give these to the moms. They turned out AWESOME! And, shipped in a timely manner. :)
I had these wine glasses custom made for the hostesses that threw my baby shower. They arrived earlier than expected, and exactly what I was looking for! They were a huge hit with everyone!
Turned out better than I expected! Bought for my mom, step mom and mother in law! Thanks!
Current customer feedback from January, 2015: 
Once again, love these wine glasses! This was a present for my mom for Christmas and she loves it! As usual, great shipping time and a great product!
My favorite wine glass of all time!!!!!!!!! Shipping time was very reasonable as well as price! Great quality! Love her products!



Super fast shipping and my best friend loved them! Perfect engagement present.



Beautiful glasses, a great hit at our family Christmas gathering. I would and have recommended Waterfall Designs - I was terribly nervous about ordering on-line but the packaging and shipping was exceptional!



This is my second purchase from Sheena's shop and once again I'm very satisfied and impressed with the quality of work done by this seller. She's so courteous and helpful. I am so in love with these personalize champagne flutes I purchased for my bridesmaid. I know they will enjoy such unique gift... Thanks so much Sheena. I'm extremely happy that I came across such unique items in your shop.



Loved these! I ordered them for my bridesmaids and can't wait to include them in their gifts. They are sturdy and the Chevron letter is flawless.



I bought this as a Christmas present for a friend and she absolutely loved it! I asked the owner of the shop if she could make it on a wine glass instead of the mason jar. She was very prompt at getting back to me with my questions and happily accommodated my request. It was waiting for me on my doorstep 12 days after I placed the order and the finished product was just how I was wanting. I was thoroughly pleased with my experience with this shop.



I got a glass for a Christmas present and when I received it I wanted to keep it for myself!!! Aha my mother in law loved it. She drinks out of it all the time it was defiantly worth it! Thank you tons !
I absolutely love feedback!  Please email me with any questions, comments or feedback: Sales@Waterfall-Designs.com